Welcome to Just Jaguar* aka Jags Only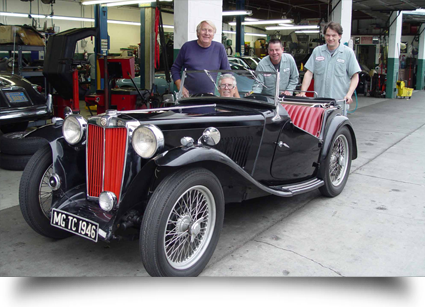 Established in 1983, Just Jaguar aka Jags Only has developed the reputation of being your home for Jaguar and British Auto Service in the San Fernando Valley. They are a family owned and operated business committed to providing the service you would expect for your Jaguar Motor Car. From his roots as an electromechanical engineer in his home country of England, Graham Bloxham, his wife Natalie and their crew of experts bring over 40 years of automotive experience to the care of your vehicle. They currently service five generations of the world's most prestigious motor cars.
Independent Repair Facility
Just Jaguar aka Jags Only is the leading independent repair facility for Jaguar and British auto service in the San Fernando Valley. We have earned the "Best of Sherman Oaks" award presented by the U.S. Commerce Association for four consecutive years; received the 2011 CMUS Talk of the Town Award for Excellence in Customer Satisfaction; been recognized by Consumer Business Review as "Jaguar Specialists of the Year 2009" and received "Best Auto Mechanics in Town" award 1989 by LA Magazine.
We have consistently out-performed our competition.
Read on to learn more about Just Jaguar aka Jags Only.
"Pride in Servicing a Living Classic"
Full Service and Repair for Jaguar and Other British Cars serving Beverly Hills, Burbank, Encino,
Glendale, Hollywood, North Hills, North Hollywood, Reseda, Sherman Oaks, Studio City,
Tarzana, Valley Village, Van Nuys, West Hollywood, West Hills
and surrounding areas.